What is the Central Claim of Christianity?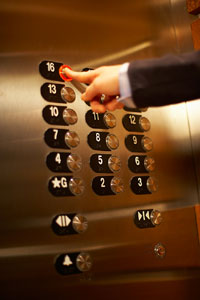 Prepare an "Elevator Speech"
Near the first day of sales training your trainer will ask you to give "an elevator speech." It's called that because there's tremendous value in being able to explain your product or service in the time it takes to ride in an elevator. To do so, you have to cut all of your usual verbiage down to the bare essentials. Also, you must tell your story from the point of view of the listener, explaining things in terms of W-I-I-F-M ("What's in it for me?"). When those elevator doors open up and the person you've been talking to walks away, he or she should have a fairly good idea of what you offer and why it is worth the price.
Just the Essentials
Let me give you my "elevator speech" about Christianity. These are the essentials. Although God created us human beings to share in His nature and to have a close relationship with Him, every one of us has rebelled against Him, choosing instead to go our own way and suffer the consequences. Those consequences are bad, including purposelessness, a sense of worthlessness, isolation and animosity, suffering, and, yes, death.
But God was willing to do something about our predicament. What He did was to send us His Son, who became a human being, modeled for us what it means to be pure, to love God, and to lovingly serve our fellow humans. More than that, He took upon Himself our guilt and paid the debt we owed by dying on the cross. Arising from the dead, He demonstrated that He has the power and authority to offer us His forgiveness and His righteousness in trade in exchange for our sins and defilement.
He wants us to trust Him with all of our being. This trust includes repudiating our rebellion, declaring before others our allegiance to Him, joining in a re-enactment of His death, burial, and resurrection so that the exchange can be made. Then He calls on us to follow Him for the rest of our lives in humble submission to the lifestyle and the mission He has in mind for us.
Not only do we experience a closer relationship with Him, but we also have a close fellowship with all other human beings willing to obey Him like we have. His promise is that our relationship will just get better and better until He transforms our mortal bodies for glorified ones that are just like what Jesus received when he arose from the dead.
Christocentric Message
That's pretty much it. As the elevator doors open, did you notice that Jesus Christ Himself is the central theme of the "elevator speech"? Someone long ago noticed that when you take "Christ" out of "Christian," what do you have left? I-A-N, which stands for "I am nothing," or in the Texan dialect, "I ain't nothin'."
Without Christ, I am nothing. But with Him, I am all I was meant to be, all God designed me to be. With Him, "I can do all things through Him who enables me" (Philippians 4:13).
What About W-I-I-F-M?
What's in it for me? How about forgiveness and a high and noble a reason for living? How about a world-wide support network and a burning message of hope and healing? How about confident anticipation that pierces the dark grave and an expectation of eternity in union with a loving God? What about discovering glimpses of His likeness in your personality even now, and the secure promise that as you follow Him, those glimpses will coalesce into His likeness? What's in it for you? Getting to where you no longer ask such an ego-centric question and ask instead, every day for the rest of your life, "What's in me for Him?"
Now It's Your Turn
See if you can write your own "elevator speech" about being a Christian. Or if you are not a Christian, write about what you are instead. Your own personal elevator speech will help you clarify your thinking regarding who you are and what you're about.
Want to go deeper?
The New Testament authors furnish us with several succinct summaries of the gospel message similar to what I call the "elevator speech." Examine each of the passages in this sampling:
Now see if you can find some on your own.
Recommended for purchase:
Edmund Clowney.
Unfolding Mystery: Discovering Christ in the Old Testament
.

P & R, 1989.
Recommended for online reading:
As always, I don't necessarily agree with everything these books teach. Part of "going deeper" is developing your own spiritual discernment. It's good to "taste-test" before swallowing.
Many thanks to brother Steve Singleton, for allowing me to post from his website, deeperstudy.com --- Gary